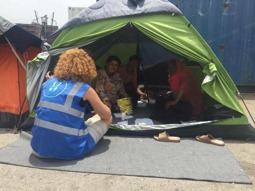 The help for the refugees in Greece are totally dependent on private contributions. We are a group of people in Sweden that do what we can to help.

In late September 2015 we went to Kos, Greece, to help in place for the first time. We collected a total of 3,5 tons of clothing and other necessities and brought 1.1 tons with us on the plane, and the rest was shipped to us when we reached Kos. After this trip we decided to continue to help and formed this organisation.

Today we arrange trips for our volunteers to Greece when needed. For the money we receive from our fantastic donors we purchase water, food, diapers and other things that the refugees need.

If you want more information about our current work please use our contact form.

We offer a simple and reliable way for people to reach out and make a real difference for those left with nothing after being forced to flee their homes. All money we receive go directly to help the refugees.

Donate via bank transfer:
IBANSE08 9500 0099 6018 0786 2782
BIC (SWIFT): NDEASESS

Donate using our Swedish Swish number:
12 33 55 94 08

Donate via Plusgiro:
786278-2